FilmlandClassics.com entire website is now certified as a 100% Secure SSL Connection.
Browse or Shop With Kong-fidence!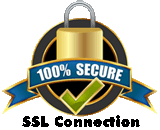 Your log-ins to our site and all purchases are encrypted & secure.
If for some reason your browser is not displaying the Green HTTPS Lock Icon in your address bar, please click *** HERE *** to go to our secure pages.